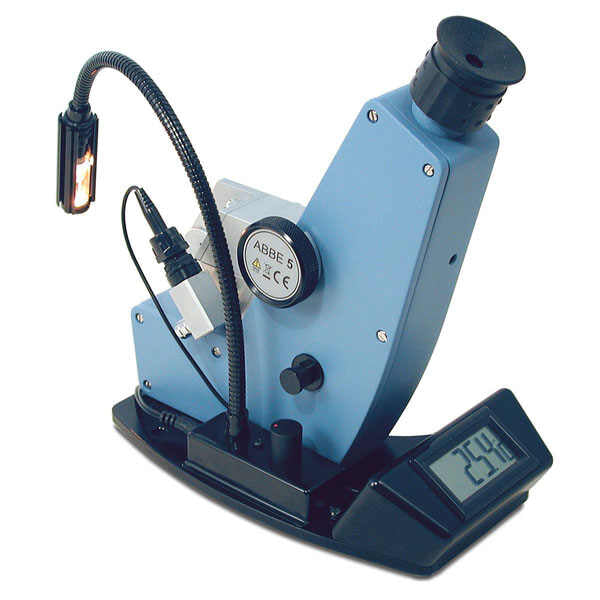 Abbe 5 Optical Refractometer
Regular price £1,415.00 Sale
The Abbe 5 optical refractometer from Bellingham + Stanley is an affordable bench-top instrument perfectly suited for users requiring a wide measurement range of Refractive Index. Customers that use an Abbe 5 are often based in smaller contract laboratories or use them for applications where sample throughput is relatively low.  The instrument is also perfect for practical demonstrations and experiments in chemistry and physics laboratories of schools, colleges and universities.
Dual Refractometer Scales
The Abbe 5 refractometer features both Refractive Index and Brix scales, with a resolution of 0.0005 and 0.1 respectively. The temperature of the prism is monitored electronically and displayed on the clear LCD display at the base of the instrument. Connections for a water-bath provide optional prism temperature control, facilitating accurate readings to 4 decimal places RI (or for Brix,  1 d.p). Dispersion measurements of solid materials such as glass, contact lenses and fibre optics may be made in accordance with standard practice. 
Two different modes, Transmission and Reflective, allow for a operation in slightly different ways. In "Transmission mode" light passes through the illuminating upper prism and then through the sample. In "Reflective mode" light is reflected from beneath the sample and "bounces off" the lower prism/sample interface. Reflective mode is particularly useful for measuring samples with high optical density eg. rubber and polymers.
The Abbe 5 refractometer is supplied with a glass calibration plate, contact liquid, and instruction manual and is packed in a hard flight case for easy transportation and storage. Limited warranty is 24-months.

Includes:
Abbe 5 Refractometer




Glass calibration plate




Contact liquid




Instruction manual




Robust hard flight case




Limited warranty (24 months)



Specification
Scale
Refractive Index:  1.30 – 1.70
°Brix (sugar):  0-95

Resolution
Refractive Index:  0.0005
°Brix (sugar):  0.1

Temperature
Operating Temperature:  5-70 °C
Temperature Resolution:  0.1 °C
Ambient Temperature:  5-40 °C

Power Supply:  Battery 1x1.5V AA alkaline

Product Code: 44-501
 Please click the product codes below for accessories and spare parts.
| Code | Description |
| --- | --- |
| 44-501 | Abbe 5 refractometer supplied with glass calibration plate, contact liquid and instruction manual packed in a hard flight case for easy storage |
| 44-520 | Abbe 5 LED light source for mounting on instrument base. UK/EU/US plug. 110-230 V~, 50/60Hz |
| 44-590 | Spare prism box assembly |