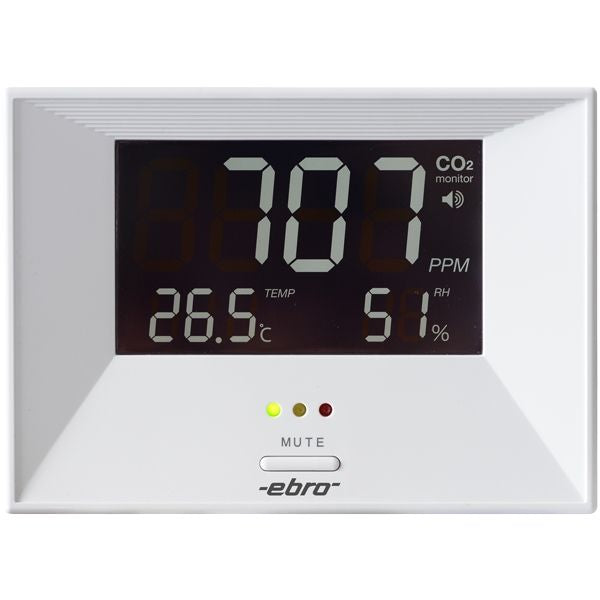 Room Climate Monitor
Regular price £138.00 Sale
The RM 100 from ebro, a Xylem brand, is a smart, compact and easy to use room climate monitor. It has been designed to measure the air temperature and humidity of a room, whilst also measuring the CO2 value.
As we are regularly advised, the risk of infection by viruses such as influenza or corona can be reduced through good room ventilation. Continuous monitoring of CO2 concentration gives a suitable indicator for the concentration of viruses in the air. Essential for taking care of indoor air quality.
A large backlit display shows the room temperature and humidity and CO2 values, whilst three LEDs offer an at-a-glance view to whether the CO2 value in the air is either Good, Medium or Bad.

Every room climate monitor RM 100 is shipped with a certificate of calibration. This is proof of the accuracy and reliability of your device.
The RM 100 can be used in office buildings, schools, exhibition halls, shopping malls, meeting rooms, fitness centres, restaurants and other public places where personal comfort and a healthy environment is important. 
Easy to read, backlit display




Measurements of air temperature, humidity and CO2 value




Alarm for when limits exceeded

Factory calibration certificate
Product code: 1348-0001