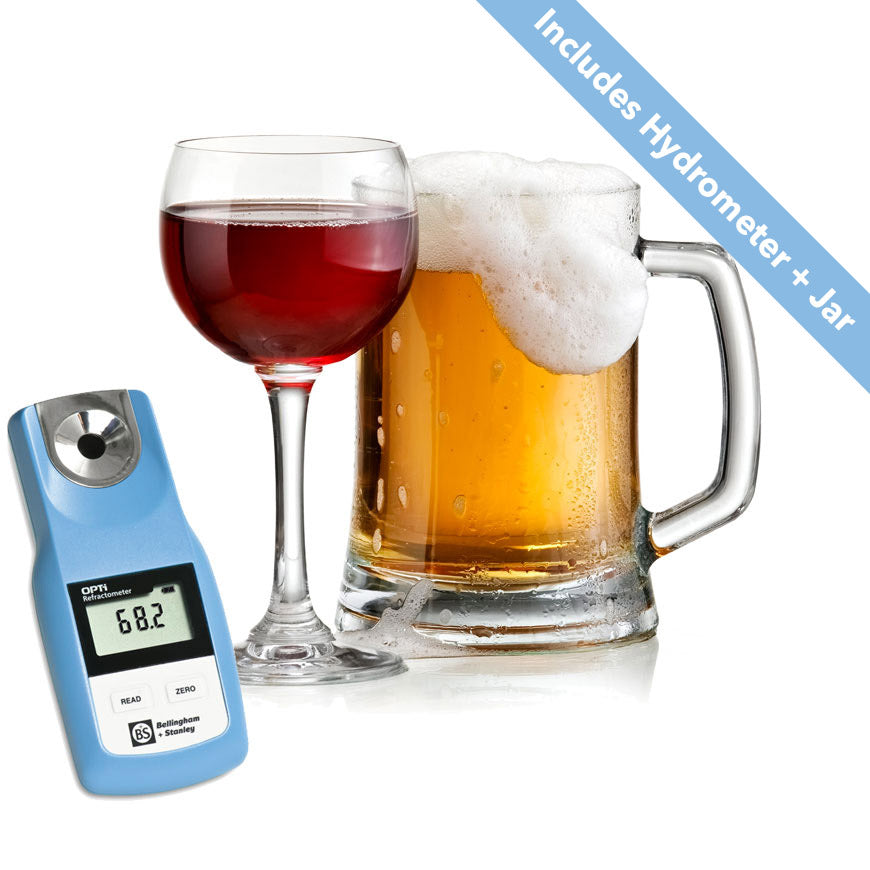 OPTi Refractometer and Hydrometer Brew Kit
Regular price £345.00 Sale
The OPTi Brew Kit is a specially selected bundle of an OPTi digital refractometer and hydrometer for determination of alcohol by volume (ABV) in beer, wine and cider. Particularly useful for "champagne style" wine makers for monitoring fermentation in bottle and for alcohol declaration of ciders within the UK or for craft brewers as the OPTi digital refractometer comes pre-loaded with the Wort scale that can be used for testing wort prior to fermentation.
The OPTi Brew Kit can also be used by trading standards as an audit tool or as an alcohol content guide for homebrewing and microbreweries.
OPTi Brew Kit includes:
OPTi digital refractometer (Wort/Brix/Zeiss)
Graduated Hydrometer
Hydrometer Jar
Instruction Manual with tables + access details for online calculator
The OPTi Digital Refractometer is far more accurate than an equivalent-scale optical refractometer as it eliminates difficult to read results at the lower end of the scale, especially cheap Brix refractometers (not linear Zeiss models such as the Eclipse) that have a compressed scale near water, just where the finished beer will read.
OPTi refractometers are Made in the UK using stainless steel injection moulding to construct easy clean prism dish. Learn more about the OPTi digital handheld refractometer here.
Product code: 38-01RS-A50-B1-C42-838-839
Frequently bought with OPTi
AG 40 calibration fluid - £39.99
AG Fluids are aqueous solutions that cover the range 1.33-1.40 RI (0-40 °Brix equivalent) and have a shelf life of 12-months. Add to your order for free shipping within the UK.