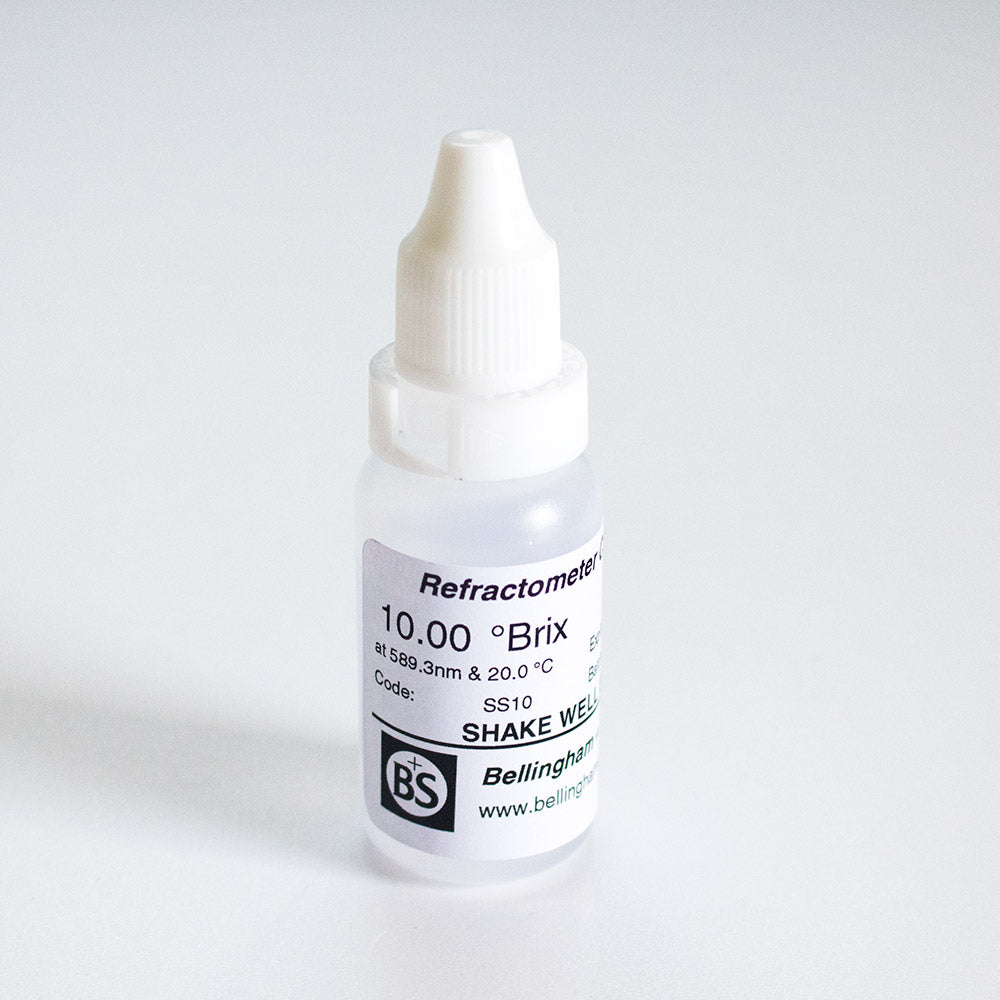 Brix Sucrose Solution
Regular price £48.00 Sale
Sucrose Solutions offer ease of use when calibrating instruments that do not have temperature control but instead rely on temperature compensation. They are also preferred by beverage, sugar and food producers as their components typically match the product being tested. However, please keep in mind that Sucrose Solutions have a short shelf life (typically 6 weeks).
Sucrose Solutions are available in a number of values covering the range 0-60 °Brix and are supplied with a Manufacturer's certificate showing traceability to ICUMSA and NIST.
15ml plastic bottle for direct application to refractometer
Suitable for all types of refractometer, including those with ATC (sugar based).
6-week shelf life
Traceable to NIST and ICUMSA
Supplied with ISO17025 certificate of calibration.
Sucrose, or "sugar", solutions are a primary standard in which to calibrate your refractometer. They should always be considered when calibrating highly precise instruments such as Bellingham + Stanley's RFM refractometers thanks to their very low level (±0.011) of uncertainty.

Whilst our sucrose solution offers an impressive 6-week shelf life, this can be limiting in some circumstances, and unfortunately once past the 6 week timeframe you must dispose of any remaining calibration liquid. In response to this, Bellingham + Stanley developed AG Fluids - refractometer calibration liquids with a much longer lifespan.

Refractometer AG Fluids are calibration materials that cover a range of 1.33-1.40 Refractive Index (RI) which is equivalent to 0-40 °Brix. AG Fluids have a shelf life of 12-months - perfect for customers that need to calibrate less often or with less focus on low levels of uncertainty. For this reason AG Fluids are often recommended for users of handheld refractometers.
Whilst we endeavour to send stock as soon as possible please note that calibration items are subject to 15 working days lead time.
Customers also bought
AG 40 calibration fluid - £39.99
AG Fluids are aqueous solutions that cover the range 1.33-1.40 RI (0-40 °Brix equivalent) and have a shelf life of 12-months. Buy now.